Jump Ahead!
Aesthetic Profile Pictures
Cute Profile Pictures
Cool Profile Pictures
Funny Profile Pictures
Profile Picture Ideas & Tips
Imagine the first time you met a friend, either in person or online. Think back to that time, can you picture them, what they were wearing, how they had their hair done?
Most likely you have a mental picture of someone that sticks with you, you can manage that mental picture by choosing a great profile picture.
Lots of people have profile pictures from Facebook, Google, Instagram, etc. that are synced with their phone.
That way, every time you text with someone you see their profile pic and thus they get a glimpse or reminder of who you really are.
The soul never thinks without a picture. – Aristotle
Aesthetic Profile Pictures
Aesthetic is in, just take a look at TikTok and the insane popularity of the app.
It's filled with e boys and e girls focusing on their aesthetic look and growing in followers.
Channel that e-girl trend and choose an aesthetic profile pic to match who you want to be.
1.  One lone man, standing in the great beyond. Wait, is that Jupiter in the background?
2. Don't tell me you like cotton candy more than I do, because it's a lie.
3. Rainbows are just about as aesthetic as you get. Rainbows and space, just damn.
4. What a scene, dawn with a lone tree. Makes me want to sit by that tree and meditate.
5. This is the visual version of ASMR if I've ever seen one. Never heard of ASMR, do a quick YouTube search and give yourself a few hours to loose.
6. Never been to Japan, does that make me a bad person? I've eaten sushi at Whole Foods, does that count?
7. Snowy rooftops at dawn, the perfect way to start a day in the city. I wonder what city this is, Moscow maybe?
8. Have you ever sat in a car and changed your focus while looking out of the window to focus on the landscape around you then focus on the specs of dust and dirt on the car window?
9. Aesthetic doorways like this are ones you want to open. If you saw this door in front of you, how could you not open it?
10. What do you think she's thinking about, do you think she's thinking at all or just enjoying the moment?
11. Flowers have represented love for so long in human culture, think about how many flowers were given to loved ones over centuries and centuries.
12. There's something magical about the start of spring, where flowers spread out across the landscape and we all feel energized with the sense of new beginnings.
13. I've never met a mountain on a tree looking out to the moon on a winter night. Maybe now I have.
14. Unicorns fart rainbows, so if you time it right and follow a unicorn, eventually you'll see this with your own eyes.
15. Sunflowers are essential aesthetic, a bright warm and yellow flower that stretches high up to the Sun.
Cute Profile Pictures
We all know you're cute, now you just need to show everyone else you're cute in your profile picture. Well, actually, if you'd prefer to use a tiny kitten we will get the point anyway.
From beautiful butterflies to endearing little puppies, we've got you covered.
1. Am I cute enough for snuggles yet? Says kitten to her parents as they attempt to do work on their laptop.
2. Even that teddy bear looks thrilled at whatever he's looking at. Makes me wish I had a photo from the other direction.
3. Amazing light effect and bokeh, photography like this is so magical. If you know a photographer get them to take a similar photo of you with bokeh and a light effect, you won't regret it.
4. One single rose, no, not like the one on Bachelor. Like the one a true valentine gives on a cold February day.
5. Somehow I think this girl should just let the guy ride his own damn bike. He can make it up that damn hill himself.
6. When you're a child you take inanimate objects and pour love into them. Take a cute teddy bear and snuggle him forever.
7. A prince among the common folk. Yes, sir, bring me my wine and grapes! What, no more wine?!? Whiskey it is then fine sir.
8. Do these glasses make me look smart? They feel a tad bit big on me but I can't tell because I don't have a mirror.
9. Hey giraffe dude, your tongue's sticking out. Did you see an exceptionally delicious tree or something?
10. She calls this the cute pouty pose, did it work?
11. Babies love dogs, dogs don't always love babies. Babies yell and grab dogs, dogs are nervous.
12. Friends forever, right. Everyone has that childhood friend where you promised to be friends forever. I remember building forts out in the woods, play fighting with sticks and eating peanut butter and jelly sandwiches.
13. Is this what teddy bears dream about? Rose petals and all the best snuggles?
14. Anime is an important part of our culture!
15. How could we not end it on cute teddy bear snuggles in blankets? The best!
Cool Profile Pictures
Everyone wants their friends to think they're cool. But there's a fine line of being cool and trying a bit too hard to seem cool.
On top of that, everyone has their own definition of what cool really is.
That's why we've provided a wide array of cool profile pics to choose from. Don't be this guy ↑, let's be truly cool.
1. Nothing is cooler than red-tinted shades, retro and badass. Add white hair and it's a killer combo.
2. Is that a walrus smoking a cigarette and wearing a leather jacket? Can we trade?
3. Call Cardi B, this cat's got a cooler chain then their baby does. How much gold is too much gold? Trick question, you can never have too much gold.
4. Godzilla mixed with Iron Man mixed with Transformers, triple the threat.
5. Cool enough to make Ryan Reynolds get excited, and then some.
6. A mixture of V for Vendetta and Star Wars, again killer combo. If you haven't seen it, you need to watch V for Vendetta tonight!
7. Flashback to the '80s with this cartoon guy with a sweet fade. Who do you think this resembles? It reminds me of someone but I just can't put my finger on it.
8. Don't judge me but this may be what I would look like after living in a log cabin in Colorado for a few years. Who needs to bathe anyway?
9. If you hadn't previously had nightmares about some sort of animated birdman with a tophat coming to get you, now you will.
10. Harnessing the birdman but in an entirely different way, what a cool drawing. I can almost feel the wind from that drawing.
11. Everyone knows, if you want to look dope, wear leather and smoke a cigarette. Or is he vaping, the new way to fit in?
12. What happened to her eyes! Maybe she doesn't need any eyes. Fill in those eyebrows and you got yourself a real Frida Kahlo.
13. Everyone loves girls in Corvettes, even if they're super tiny corvettes. You rock girl!
14. On a different level, never mess with someone who wears leather lingerie and has a flame thrower! What do you think she's burning?
15. Reminds me of my 6th-grade school photo, or at least what I wished I could wear during my 6th-grade school photo.
Funny Profile Pictures
Now, some people need to laugh every single day, that's why they choose a funny profile pic to make people laugh. Perhaps even themselves sometimes.
Here's our list of the funniest pictures you can use for your profile.
1. What a classic, neck rolls for days, googly eyes and the bald head make for so many Jabba the Hutt jokes.
2. When you're feeling it, don't let anyone stop you. You live your life, bear and enjoy that cool refreshing water.
3. I don't know what we're yelling about! *LOUD* *NOISES*!
4. Someone just found out they didn't make it into the Fortnite tournament playoff games. No one better get in his way!
5. Everyone goes through that awkward stage as a child, let's hope he grew out of it. Or is this what Gollum from Lord Of The Rings would have looked like as a human baby?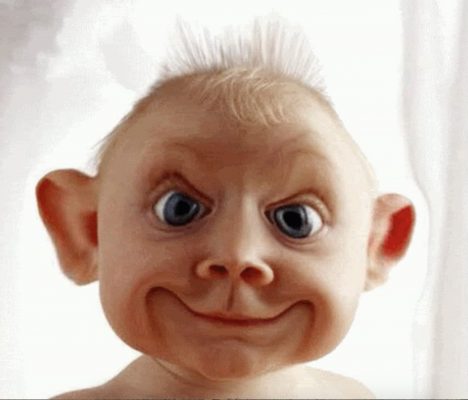 6. So funny, slap a Japanese man's head with long flowing hair and a beard on a little girl's body and who can't laugh.
7. Now, I want you to do a little exercise with me. Think in your head what sound she's making and then make that sound out loud.
8. Is that plain yogurt, I asked for vanilla yogurt mom! Oh so bitter, oh so sour!
9. This is the last thing his girlfriends ever see before they're slobbered to death. He's had several girlfriends, none of which last very long.
10. Look at those rosy cheeks, makes you want to smile a bit. He looks like one of those cartoon guys that you could hit and their entire face turns into jelly.
11. If you see her walking down the street, don't laugh, RUN!
12. They say we all live in our own little bubbles. Well, this guy lives in his own condom bubble.
13. What a talented horse, does she know any other tricks?
14. That funny look grandma gives you before trying to plant a kiss on ya.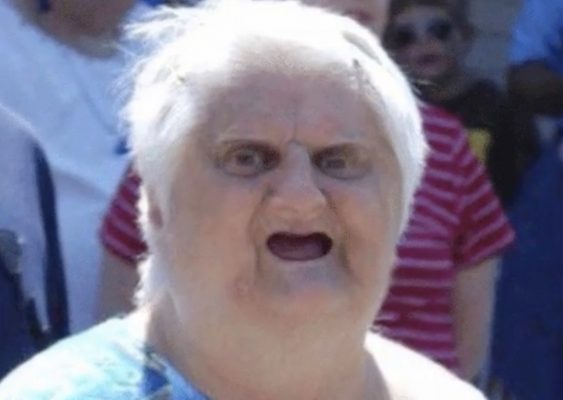 15. How popular do you think this guy was as he walked down the street?
Turn Your Profile Picture Aesthetic
If you already have a profile picture you want to use, the easiest thing to do is to just make your current picture aesthetic. You can do that a variety of ways, but here we'll show you our favorite, using PhotoMosh. Simply follow the video below!
Profile Picture Ideas & Tips
Hold a picture of yourself long and steadily enough in your mind's eye, and you will be drawn toward it. – Napoleon Hill
Now, you've looked through the lists of profile pictures and you probably have an idea in mind on what you want to use or at least the genre that you want to use in your pic.
If you're still scratching your head, here are some tips to help you narrow down your profile.
Take into account where you're at in life. Are you in school? If so you may want to use a picture of you in school. Are you in summer camp or a mom? Find a fitting picture for each scenario.
Do you want your profile picture to be of you, a real picture but of someone else or another animal or a drawing or cartoon? All of these are valid but it's worthwhile to narrow down what you prefer.
Do you want to make people laugh when they see your picture? If so, choose a funny one. Want people to know you enjoy the beautiful things in life, choose an aesthetic pic.
It's important to consider what the requirements and dimensions are for any given profile picture before landing on one.
Some social media platforms have different pixel requirements or size requirements.
Also, you don't want your pic to be cropped because it didn't fit into the pre-defined profile pic box.
How To Change Your Profile Picture On Different Platforms
Ok, so now you've decided on your new profile picture and you want to make sure you change it on all of the different accounts that you have.
Here is a list with links to how to change your profile pic on lots of the big platforms.
How to change your profile picture on:
Unlike a typical username that can only be changed on occasion or you need to pay money to change (Roblox for example), you can change your profile picture as many times as you want on most platforms.
Given that, you should be able to add a new picture to suit your current life.
In Greece playing on the ocean during summer break, snap an image and use that for a few months.
Then you're back in Chapel Hill and snap a photo in front of the Old Well and use that for a while.
Now, it's spring and take a pic with Roy Williams to flaunt around the internet for a bit.
Profile pictures are the best and truest way to represent you and your individuality online.
Make sure this one counts.
Let us know what you use in the comments below, did you find the perfect picture?
Was this article helpful?
That's great to hear! We're glad you found the article helpful. Feel free to share it with your friends!
We're sorry to hear that! We love feedback :-) and want your input on how to make How-To Apps even better.